Flights from Manchester to Rome
You can travel from Manchester to Rome by plane with ease, which makes this a great route to take. There tends to be up to 17 flights per day, depending on which day of the week you fly on. Although there Is only one direct flight each day that travels from Manchester to Rome. The average flight time for this route is 2h 40min for the direct flight. The indirect flights can take anything from 4 30min to 27h 25min.
Manchester to Rome flight Time: Daily Departures
There is normally one flight per day which is direct from Manchester to Rome, which means you can regularly travel between these two cities. Add to that a range of indirect flights and you should be able to find one which matches your schedule. The direct flights tend to depart at 5:35 p.m. on Mondays, 6:40 a.m. on Tuesdays, Wednesdays, Thursdays and Sundays, 6:40 p.m. on Fridays and 6:00 p.m. on Saturdays. With a total journey time of approximately 2h 40min, you can just sit back, relax and enjoy the flight.
How long is the journey by flight from Manchester to Rome?
The flight time from Manchester to Rome is relatively quick if you choose a direct route. With an average flight time of about 2h 40min, you'll complete the 1047 miles (1688 km) journey in great time. For direct flights, you'll always take off from Manchester Airport (MAN) and land at Rome Ciampino Airport (CIA). Whereas indirect flights tend to land at Rome Leonardo da Vinci Fiumicino Airport (FCO).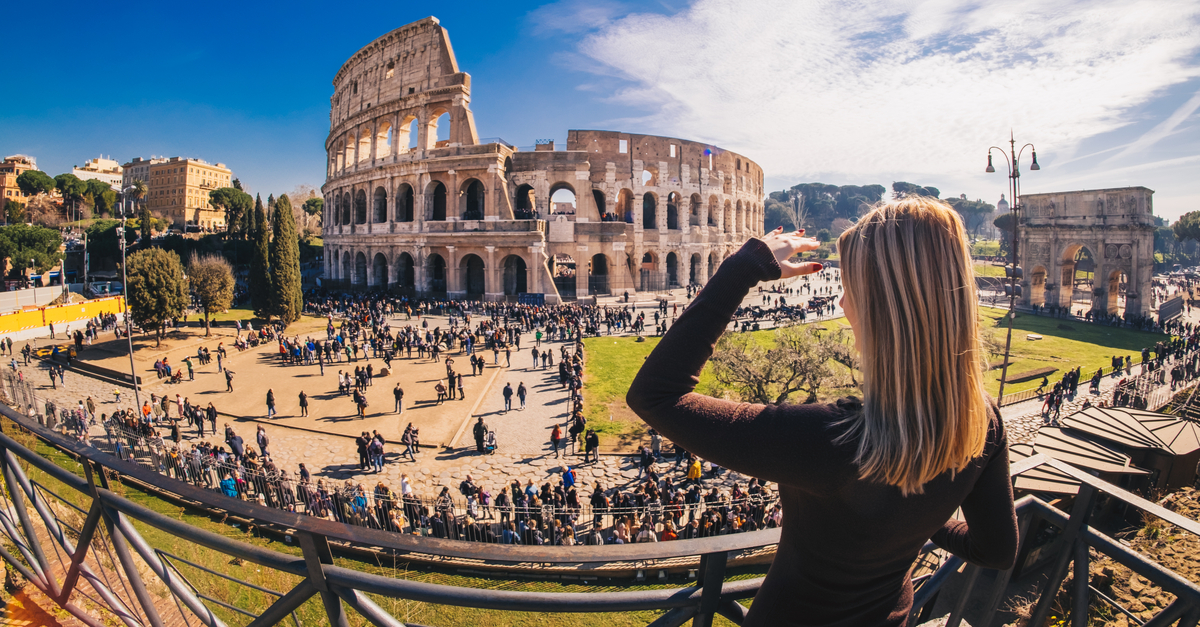 Rome Tourist View Colosseum. Source: Shutterstock
What is the departure and arrival airport for flights from Manchester to Rome?
Departure airport: The departure airport on this route is always Manchester Airport, which you can get to with ease from the city centre. For example, a train from Manchester Piccadilly takes approximately 15min to reach the terminal building. At the airport you will find lots of facilities, including airport hotels, food outlets and currency exchange bureaus. If you are travelling with a disability then you can request special assistance in advance of arriving at the airport.
Arrival airport: Direct flights from Manchester land at Rome Ciampino Airport, which is a 40min bus journey to the centre of the city. The airport has basic facilities, such as food and drink shops, cash points, toilets and currency exchange. Indirect flights tend to land at Rome Leonardo da Vinci Fiumicino Airport, which is about 30min by train to the centre of Rome. It has more facilities than Ciampino, with a larger choice of shops, restaurants and other amenities, making this airport a better option for those travelling on longer journeys. If you need assistance at either airport, you can do so by calling your airline in advance of your journey.
Which airlines travel Manchester to Rome?
The only airline that offers direct routes between Manchester to Rome is Ryanair, which tends to complete the flight in about 2h 40min. Offering seven flights each week, there should be a suitable one which matches your schedule. You can also get indirect flights with KLM and Air France, but these can take significantly longer and require a transfer along the way.
Ryanair flights from Manchester to Rome
Ryanair flights from Manchester to Rome are one of the easiest ways to travel between these two cities, with there being one direct flight each day of the week. Between Monday and Sunday you can opt for morning or evening flights, which give you the flexibility to travel when suits you. Between Mondays and Thursdays, and also on Sundays, the flights depart at 6:40 a.m., on Fridays there is a flight at 6:40 p.m., whilst on Saturdays the departure is at 6:00 p.m. As it this is a direct route, you won't have to worry about transferring along the way. All direct flights also land into Rome Ciampino Airport.
KLM flights from Manchester to Rome
KLM also operate flights from Manchester to Rome on an indirect basis. There tends to be up to seven departures each day, depending on which day you travel. Most of the flights require one stop, which is normally at Amsterdam Airport Schiphol (AMS), with the flight duration being between around 4h 30min and 23h 5min. Flights with this airline tend to land into Rome Leonardo da Vinci Fiumicino Airport.
Air France flights from Manchester to Rome
You can also travel indirectly from Manchester to Rome with Air France. These flights tend to operate up to seven times per day too, with most requiring a change at Paris Charles de Gaulle Airport (CDG). The flight duration for this journey can be anything between 4h 30min and 27h 25min. This airline also tends to land at Rome Leonardo da Vinci Fiumicino Airport.
Flight Manchester to Rome: Services on Board
Flights to Rome from Manchester are a great choice, with there being some great services on board the airlines. There are no First Class options on these airlines for this route, but all seats provide you with comfort for your journey. Ryanair does not offer wi-fi, whilst KLM and Air France have it on the majority of their fleet, so you'll be able to stay connected during your trip. Ryanair allows you to to travel with three fares. 'Light' means personal items only,
'Standard' allows one cabin bag, whilst 'Flex' provides you with a checked-in bag. Cabin bags must be no bigger 55cm x 40cm x 20cm and weight no more than 22 lbs (10 kg). The checked-in luggage, depending on which one you go for can be either 22 lbs (10 kg) or 44 lbs (20 kg). Both KLM and Air France allow a cabin bag of 55cm x 35cm x 25cm and 22 lbs (10 kg). You can book for a bike on board these airlines for an addition price, but this must be done at least 48h prior to arrival. On this route, as it's leaving the UK, pets are not allowed on board. If you are disabled or require assistance with your journey, you can call your airline in advance and they will provide a member of staff who will be happy help to get to your gate, board and alight the plane.
How to find cheap flight tickets from Manchester to Rome?
It's easy to get cheap flights from Manchester to Rome, providing you know where and when to look. Firstly, try booking you flight as far in advance as possible, as this is when prices tend to be at their lowest. With tickets going on sale at least six months in advance, this gives you ample time to look for the perfect fare. You can also use the Omio website to compare prices, so that you get the best deal for your trip. If you are flexible around the date that you are travelling then this can also help. For example, if you are able to travel a day or two either side of your desired travel date, then you might find that tickets are cheaper.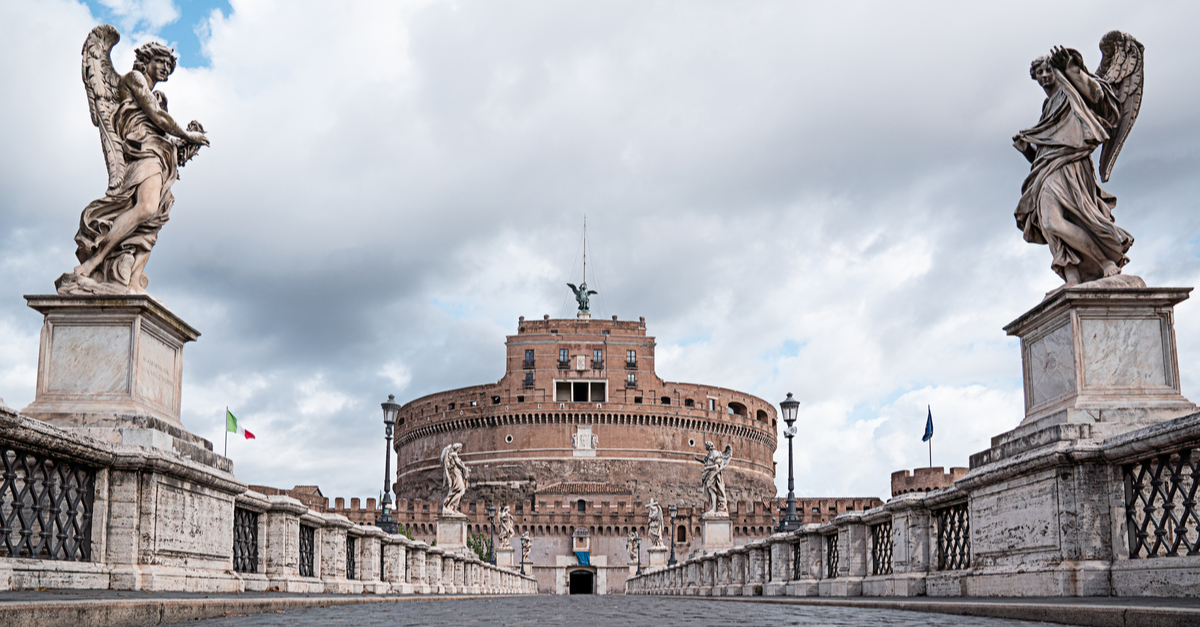 Rome Sant Angelo Bridge. Source: Shutterstock
To Rome by plane —travel tips
Rome is a great city to visit, with so much to see and do. Whether you're with family, on a romantic trip or travelling solo, you'll love your trip to Rome. Start you trip at the Pantheon, which is an authentic Augustan monument in the heart of the city. Then head over to the Colosseum, which is the famous amphitheatre which takes you back in time. The Palatine Hill is also a great place to visit as it contains many remarkable ruins.
Go and check out the Trevi Fountain, which was completed in the 19th century and is an iconic part of Rome's architecture. The Galleria Borghese is another amazing place to visit, with a range of antiquities and paintings spread across 20 rooms. A trip to Rome wouldn't be the same without enjoying some traditional Italian food, so head over Trastevere neighbourhood, where you'll find a range of restaurants serving pizzas and pastas. Finish off your trip at Museo Nazionale di Castel Sant'Angelo, which is a circular fort and castle that was once the tallest building in the city.