<32>Flights from Barcelona to London
A direct flight from Barcelona to London takes approximately 2h 20min. Multiple flights depart from Barcelona to London each day, including at weekends. Flights depart approximately one every two hours, beginning from around 6:30 a.m and carrying on into the evening. Several companies operate on this route, meaning that you can find a range of prices and times to suit you.
Barcelona to London flight Time: Daily Departures
Around 40 flights from Barcelona to London are available each day, including both indirect and direct flights. Flights start early at around 6:30 a.m and operate until around 8:30 p.m. Flights usually occur every two hours, with some busier periods seeing multiple flights depart at one time. Several airlines operate flights on this route, some of which operate a higher frequency of flights each day than others.
How long is the journey by flight from Barcelona to London?
The fastest direct flights from Barcelona to London take approximately 2h 15min, although some direct flights may have a slightly longer journey duration. Companies also operate indirect flights between the two locations, which will increase the flight time by several hours. The average indirect flight from Barcelona to London may take around 6h. It's important to remember to allow yourself time to check in and retrieve your luggage in your itinerary when you are calculating your journey time.
What are the departure and arrival airport for flights from Barcelona to London?
Departure airport: Barcelona, Barcelona El Prat (BCN) serves departures for flights from Barcelona to London. The airport is very popular with tourists, serving the city itself and the surrounding holiday spots. The airport is around 9 miles (15km) from the city centre, a 30 or 40min drive. Taxis and car hire are available on site, alternatively you can make use of the metropolitan buses which stop at the airport terminals.
The best public transport option at the airport is the Aerobus, which provides an express and direct service between the airport terminals and several locations in the city of Barcelona itself. It departs ever 10min from early until late. In terms of facilities, Barcelona airport is well appointed, with a currency exchange, information desks and many small shops and eateries.
Arrival airport: London, The city of London is served by multiple airports, many of which are available when flying in from Barcelona. The most popular airport for this route is London Heathrow (LHR), one of Europe's busiest airports. It is located 1h drive away from the city centre, a distance of around 25 miles (44km). Heathrow has its own national coach network departing from the airport to cities in the UK, and you can make use of the Heathrow Express train to London's Paddington station. Alternatively, taxis are available from each of the terminals. London Heathrow has great facilities for travellers, including multiple lounges, pubs, bars and restaurants onsite and shopping outlets. You can also find luggage storage and currency exchanges at your convenience.
London City Bridge. Source: Shutterstock
Which airlines travel from Barcelona to London?
Several companies currently operate flights between Barcelona and London with a range of prices and flight services available. Airlines frequently operating on this route include Ryanair, KLM and AirEuropa. Other airlines may also provide flights on this route on a less regular basis. Ryanair has a reputation as a very cheap provider, and currently provides some of the cheapest and flights between the two locations. KLM offers a better range of flight times throughout the day, and sometimes operates direct flights alongside indirect flights. AirEuropa also offers indirect flights with long stopovers internationally, which are much cheaper than some of the direct flights offered.
Ryanair flights from Barcelona to London
Ryanair offer some of cheapest flights between Barcelona and London. Recognised as one of Europe's leading economy airlines, you can travel between the two cities directly at budget prices. Flights operated by Ryanair complete the journey from Barcelona to London in approximately 2h 30min allowing you to complete your journey quickly and comfortably. Ryanair offer different ticket grades depending on the flexibility you need to have with your booking, and how much luggage you intend to take with you. Find out more about Ryanair here.
KLM flights from Barcelona to London
KLM offer the highest frequency of flights between Barcelona and London with between 5 and 10 KLM flights departing from Barcelona for London each day. Most of their flights are indirect, with a short international stopover. These indirect flights are generally cheaper than direct options offered by other airlines.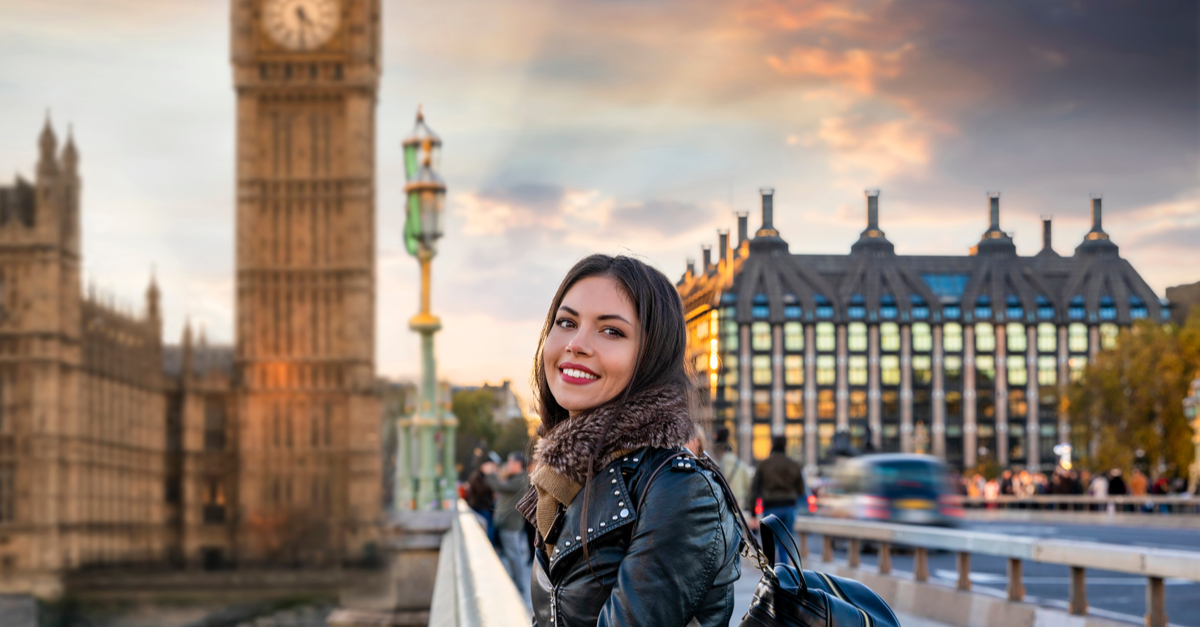 London Big Ben Historic. Source: Shutterstock
AirEuropa flights from Barcelona to London
AirEuropa offer a few flights between Barcelona and London each day. Many of their prices are very cheap, as they offer indirect flights with long stopovers in international locations. For example, an AirEuropa flight may include a change at Madrid airport (MAD), allowing you to spend around 18h in the city. These cheap and simple flights are ideal for travellers who want the extra time to explore.
Flight Barcelona to London: Services on Board
Most providers of flights from Barcelona to London will offer a first or business class alongside the standard economy class seating. All passengers will have the opportunity to enjoy drinks and snacks on board, with washroom facilities available in cabins. Depending on the luggage allowance you have purchased you will have the opportunity to have some on board stored in the overhead areas. You will also have access to charging facilities for your convenience, and on board entertainment for you to enjoy.
If you intend to take large luggage on board you should check your provider's policies and make sure your luggage is within their rules. Airlines have great policies to make their flights accessible, and if you need access to a wheelchair or other mobility aids it's a great idea to contact both your airline and airport staff in advance of your journey so that they can assist you to the best of their abilities. Many short distance airlines do not allow pets anywhere on board, however service and assistance dogs are permitted to travel.
How to find cheap flight tickets from Barcelona to London?
Booking online and in advance is a great way to find the cheapest tickets for flights between Barcelona and London. By booking in advance, you can pick out the cheapest options available and beat the rush for last minute tickets. If you're able to be flexible and travel outside of peak times then you can also save money. It's a great idea to check if there are any slower or indirect flights available at the time you're choosing to travel, as indirect flights are often cheaper than those that arrive faster.
To London by plane —travel tips
London is one of the world's most popular destinations for a city break. With four airports within a convenient distance of the city, all of which are available through public transport links, it's incredibly accessible to visit as a flyer. London is popular for its major attractions, like the London Eye or Buckingham Palace, but don't miss out on the smaller things too — like paying a visit to the theatres of the West End or finding your new favourite food at one of London's myriad of international restaurants.
You can find lots of ways to explore the city, including the tour buses which visit famous landmarks and let you hop on and off wherever you want to be. If you love the outdoors, try exploring the green spaces and public parks that make London so special: London Zoo is a hit with travellers of all ages and is surrounded by accessible parkland for you to enjoy. London has something special for everyone, whenever you're ready to come and find it.