Flights from London to Barcelona
There are many options for flights from London to Barcelona. This route has between 7 and 15 direct flights a day, many of them scheduled around 1h apart. There are also some stopover flights, which are sometimes cheaper than direct ones. Most direct flights take about 2h 15min, while indirect flights can take anywhere between 4h and 15h.
London to Barcelona flight time: Daily Departures
London to Barcelona flights have up to 30 departures throughout the day, with flights scheduled almost every hour. The earliest flight is typically around 6:00 am and the latest one departs around 9:00 pm; though, on some days, the last flight is around 5:30 pm. Flights run every day of the week, with many airlines scheduling their flights at the same times each day.
How long is the journey by flight from London to Barcelona?
The quickest direct flight from London to Barcelona takes as little as 2h 5min and is operated by British Airways. This flight leaves from London Heathrow and arrives at Barcelona El Prat, typically departing around 7:00 pm. Ryanair and Easyjet flights take around 2h 10min, departing several times a day from London Stansted and London Gatwick, respectively. Indirect flights, such as the ones with KLM, take over 4h from London to Barcelona, with stopovers in European cities.
What are the departure and arrival airports for flights from London to Barcelona?
Departure airport:London Heathrow Airport is about 20 miles (32 km) from central London. The Heathrow Express train from London Paddington Station provides the quickest journey to the airport (around 22min), but you can also take the Piccadilly Line on the London Underground for a 50min-or-so journey. London Heathrow is the largest airport in the UK, with amenities including highstreet shops, accessibility resources, and premium lounges. Flights also depart from London Stansted, which is about 40 miles (64 km) away from central London. The quickest way to reach it is by Stansted Express, departing from London Liverpool Street Station and taking around 50min.
Cheaper options include airport shuttle buses leaving from North London locations such as Baker Street Station. Stansted Airport isn't large, but offers facilities including premium lounges, duty free shops, and restaurants. You can also fly from London Gatwich, which is about 30 miles (48 km) south of London city centre. The easiest way to reach it is by direct train with Southern Rail from London Victoria Station; this takes around 35min. There are also airport shuttle buses leaving every hour from Victoria Coach Station, but the journey takes around 1h 55min. Gatwick Airport is a relatively large airport and hosts bars, restaurants, high-street shops, and multiple accessibility amenities.
Arrival airport:Barcelona El Prat Airport is about 10 miles (16 km) away from Barcelona's Sagrada Familia Cathedral in the city centre. You can take the RENFE train, which is a 25min-or-so journey, or hail a cab, which is a more expensive choice and can take between 30-45min, depending on traffic. El Prat Airport arrival facilities include car hire, reduced mobility assistance, and several shops.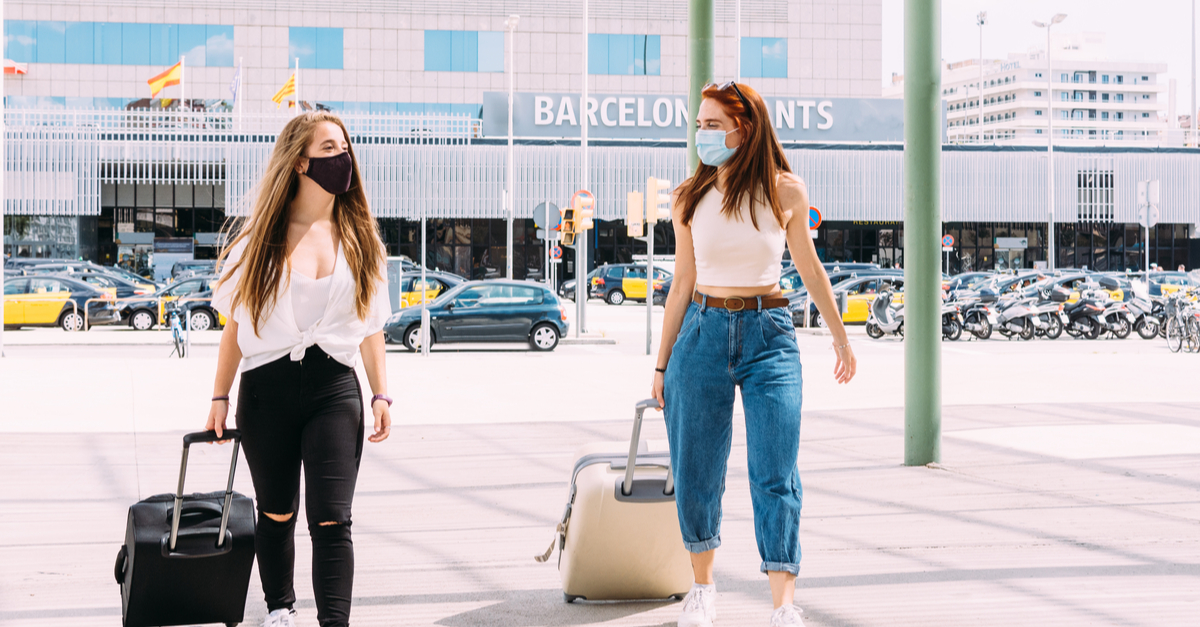 Barcelona Flight Travelers. Source: Shutterstock
Which airlines travel from London to Barcelona?
Many airlines, including Ryanair, Easyjet, British Airways, and Vueling, offer non-stop flights from London to Barcelona. British Airways flights tend to be faster than other direct flights, but only by about 5-10min. Other providers, offering indirect journeys, include KLM, Air France, and Air Europa.
Ryanair flights from London to Barcelona
Ryanair operates 3 direct flights a day from London to Barcelona, on average. Some days, there may be 4 flights or more. Ryanair flights tend to take around 2h 10min and fly from London Gatwick Airport to Barcelona El Prat Airport. The exact departure time can vary, but, usually, Ryanair flights leave around 8:00 am, 12:00 pm, and 8:00 pm every day.
Easyjet flights from London to Barcelona
Easyjet normally operates at least one direct flight a day from London Gatwick to Barcelona El Prat. On busier days, 2 or more flights make the journey. Most Easyjet flights are in the morning, around 7:00 or 9:00 am, with some afternoon flights also scheduled for 16:00 or 17:00 pm. The journey lasts around 2h 10min.
British Airways flights from London to Barcelona
British Airways offers the fastest direct flights from London to Barcelona, though they're not always the cheapest. There are about 3 flights a day, on average, leaving from London Heathrow and arriving at Barcelona El Prat, but the exact number does vary throughout the week. British Airways flights tend to depart around 9:00 am, 11:00 am, 2:00 pm, and 7:00 pm.
Vueling flights from London to Barcelona
Vueling typically offers one morning and one evening flight every day of the week, around 9:00 am and 9:00 pm. On busier days, there may be 3 flights or more. Prices are generally affordable, but Vueling journeys are the longest from the direct flights list, with 2h 15min. Planes depart from London Gatwick and arrive at Barcelona El Prat.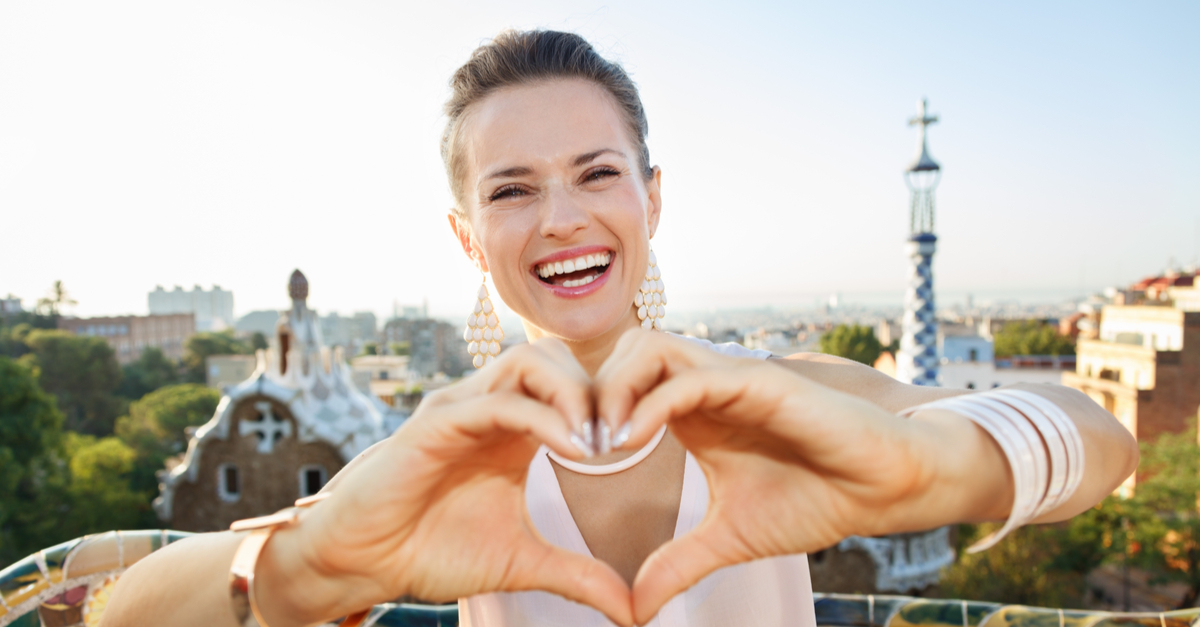 Barcelona Park. Source: Shutterstock
Flight London to Barcelona: Services on Board
A standard Ryanair ticket will allow a small personal item of 16 x 8 x 10 inches (40 x 20 x 25 cm), but there's an extra fee for larger cabin bags or checked luggage. Leisure and Business Class tickets offer extra amenities, including security fast-tracks, larger seats, and meals. Ryanair does not allow any pets on its flights, except for certified guide dogs. For reduced mobility passengers, travel options are available including bringing your own wheelchair or mobility scooter, onboard mobility assistance, and medical item allowances. British Airways flights are a comfortable mode of travel from London to Barcelona.
A standard Economy ticket gets you a cabin baggage allowance of 22 x 18 x 10 inches (56 x 45 x 25 cm), plus a smaller handbag. You can pay extra for a checked bag. Business class is available on this flight, including more personal space, high-quality meals, dedicated British Airways lounges, and security fast-track. British Airways mainly accept guide dogs as onboard animals, but there are ways to travel with your pets if you speak to the airline in advance. Accessibility options onboard include booking wheelchairs, requesting onboard assistance, and travelling with a mobility assistant.
How to find cheap flight tickets from London to Barcelona
Cheap flight tickets from London to Barcelona often include direct flights from airlines such as Ryanair and Vueling, so you can make this journey quickly whilst being on a budget. Keep your departure date flexible so you have more options to choose from. It's also a good idea to keep personal items to a minimum, otherwise you may be required by some airlines to purchase extra luggage. To find the best deals, you should book your flights through Omio well in advance of your trip.
To Barcelona by plane — travel tips
Barcelona is a popular tourist destination in the Spanish region of Catalonia, with its historical landmarks, artistic quarters, and relaxing Mediterranean beaches. Must-see attractions include: La Sagrada Familia, a majestic gothic cathedral in the city centre, Park Güell, designed by the famous architect Gaudi with a spectacular panorama of the city, and the Picasso Museum, displaying thousands of the painter's most valued works.
Finally, for a fun day outdoors, walk through Las Ramblas and the Gothic Quarter, or hit the beach at Barceloneta on a sunny day.